Yamaha YZF-R125 Service Manual: Installing the crankshaft
1. Install:
NOTE:
Install the crankshaft with the crankshaft installer pot "2", crankshaft installer bolt "3", adapter (M12) "4" and spacer (crankshaft installer) "5".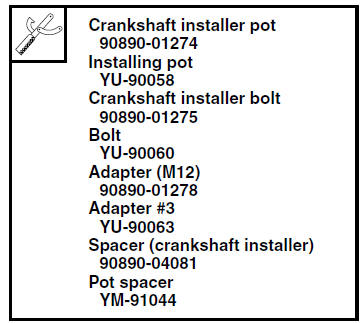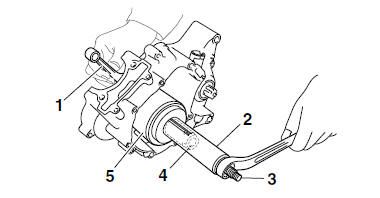 CAUTION:
To avoid scratching the crankshaft and to ease the installation procedure, lubricate the oil seal lips with lithium-soap-based grease and each bearing with engine oil.
NOTE:
Hold the connecting rod at top dead center (TDC) with one hand while turning the nut of the crankshaft installer bolt with the other. Turn the crankshaft installer bolt until the crankshaft bottoms against the bearing.
2023 Copyright www.yam-r125.net |