Yamaha YZF-R125 Service Manual: Checking the starter motor operation
1. Check:
a. Connect the positive battery terminal "1" and starter motor lead "2" with a jumper lead "3".
WARNING
A wire that is used as a jumper lead must have at least the same capacity of the battery lead, otherwise the jumper lead may burn.
This check is likely to produce sparks, therefore, make sure no flammable gas or fluid is in the vicinity.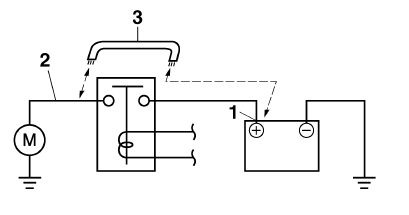 b. Check the starter motor operation.
2023 Copyright www.yam-r125.net |