1. Check:
Ignition spark gap Out of specification

Perform the
ignition system troubleshooting, starting with step 5.
Refer to "TROUBLESHOOTING" on page 8-3.

NOTE:
If the ignition spark gap is within specification, the ignition system circuit is operating normally.
a. Disconnect the spark plug cap from the spark plug.
b. Connect the ignition checker "1" as shown.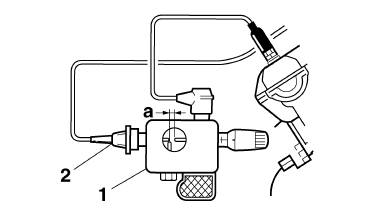 2. Spark plug cap
c. Set the main switch to "ON" and the engine stop switch to "

".
d. Measure the ignition spark gap "a".
e. Crank the engine by pushing the start switch "

" and gradually increase the
spark gap until a misfire occurs.