Yamaha YZF-R125 Service Manual: Installing the water pump
1. Install:
Water pump assembly "1"
O-rings "2"


NOTE:
Align the projection "a" on the impeller shaft with the slit "b" on the camshaft sprocket bolt.
Lubricate the O-rings with a thin coat of lithiumsoap- based grease.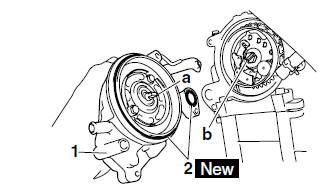 2. Fill:
Cooling system (with the specified amount of the recommended coolant)
Refer to "CHANGING THE COOLANT" on page 3-15.
3. Check:
Cooling system Leaks

Repair or replace the faulty
part.
4. Measure:
Radiator cap opening pressure Below the specified pressure


Replace the radiator cap.
Refer to "CHECKING THE RADIATOR" on page 6-3.
2023 Copyright www.yam-r125.net |