Yamaha YZF-R125 Service Manual: Installing the thermostat
1. Install:
NOTE:
Install the thermostat with its breather hole "a" facing up.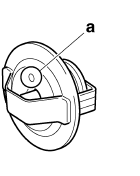 2. Install:
Copper washer


Coolant temperature sensor


CAUTION:
Use extreme care when handling the coolant temperature sensor. Replace any part that was dropped or subjected to a strong impact.
3. Fill:
Cooling system (with the specified amount of the recommended coolant) Refer to "CHANGING THE COOLANT" on page 3-15.
4. Check:
Cooling system Leaks Repair or replace any
faulty part.
5. Measure:
2023 Copyright www.yam-r125.net |