Yamaha YZF-R125 Service Manual: Checking the cylinder head
1. Eliminate:
Combustion chamber carbon deposits (with a rounded scraper)
NOTE:
Do not use a sharp instrument to avoid damaging or scratching:
Spark plug bore threads
Valve seats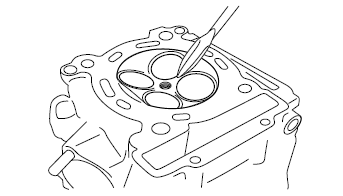 2. Check:
Cylinder head Damage/scratches Replace.


Cylinder head water jacket Mineral deposits/rust
Eliminate.
3. Measure:
Cylinder head warpage Out of specification Resurface
the cylinder head.


a. Place a straightedge "1" and a thickness gauge "2" across the cylinder head.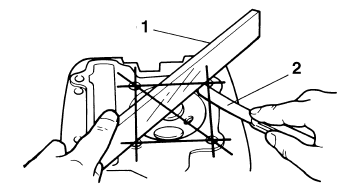 b. Measure the warpage.
c. If the limit is exceeded, resurface the cylinder head as follows.
d. Place a 400-600 grit wet sandpaper on the surface plate and resurface the cylinder head using a figure-eight sanding pattern.
NOTE:
To ensure an even surface, rotate the cylinder head several times.
2023 Copyright www.yam-r125.net |