Yamaha YZF-R125 Service Manual: Checking the camshaft sprocket and timing chain guide
1. Check:
Camshaft sprocket More than 1/4 tooth wear "a" Replace
the camshaft sprocket, timing chain and crankshaft as a set.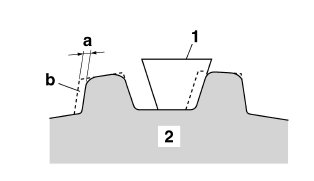 a. 1/4 tooth
b. Correct
1. Timing chain roller
2. Camshaft sprocket
2. Check:
Timing chain guide (exhaust side) Damage/wear

Replace.
2023 Copyright www.yam-r125.net |