Yamaha YZF-R125 Service Manual: Changing the coolant
1. Remove:
Lower side cowlings Refer to "GENERAL CHASSIS" on page 4-1.
2. Remove: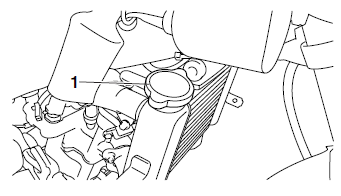 WARNING
A hot radiator is under pressure. Therefore, do not remove the radiator cap when the engine is hot. Scalding hot fluid and steam may be blown out, which could cause serious injury.
When the engine has cooled, open the radiator cap as follows: Place a thick rag or a towel over the radiator cap and slowly turn the radiator cap counterclockwise toward the detent to allow any residual pressure to escape. When the hissing sound has stopped, press down on the radiator cap and turn it counterclockwise to remove.
3. Remove:
Coolant drain bolt "1" (along with the copper washer)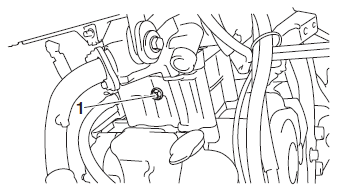 4. Drain:
Coolant (from the engine and radiator)
5. Disconnect:
Coolant reservoir hose "1"
6. Remove:
Coolant reservoir cap "2"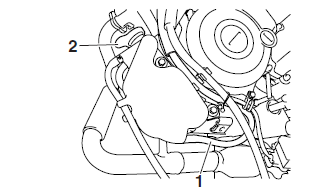 7. Drain:
Coolant (from the coolant reservoir)
8. Connect:
9. Install:
Coolant drain bolt (along with the copper washer )


10.Fill:
Cooling system (with the specified amount of the recommended coolant)


Handling notes for coolant Coolant is potentially harmful and should be handled with special care.
WARNING
If coolant splashes in your eyes, thoroughly wash them with water and consult a doctor.
If coolant splashes on your clothes, quickly wash it away with water and then with soap and water.
If coolant is swallowed, induce vomiting and get immediate medical attention.
CAUTION:
Adding water instead of coolant lowers the antifreeze content of the coolant. If water is used instead of coolant, check and, if necessary, correct the antifreeze concentration of the coolant.
Use only distilled water. However, if distilled water is not available, soft water may be used.
If coolant comes into contact with painted surfaces, immediately wash them with water.
Do not mix different types of antifreeze.
11.Install:
12.Fill:
Coolant reservoir (with the recommended coolant to the maximum level mark "a")


13.Install:
14.Start the engine, warm it up for several minutes, and then turn it off.
15.Check:
Coolant level Refer to "CHECKING THE COOLANT LEVEL" on page 3-15.
NOTE:
Before checking the coolant level, wait a few minutes until the coolant has settled.
16.Install:
Lower side cowlings Refer to "GENERAL CHASSIS" on page 4-1.
2023 Copyright www.yam-r125.net |