Yamaha YZF-R125 Service Manual: Installing the generator
1. Install:
Woodruff key
Generator rotor
Washer
Generator rotor nut
NOTE:
Clean the tapered portion of the crankshaft and the generator rotor hub.
When installing the generator rotor, make sure the woodruff key is properly sealed in the keyway of the crankshaft.
2. Tighten:
Generator rotor nut "1"


NOTE:
While holding the generator rotor "2" with the sheave holder "3", tighten the generator rotor nut.
Do not allow the sheave holder to touch the projection on the generator rotor.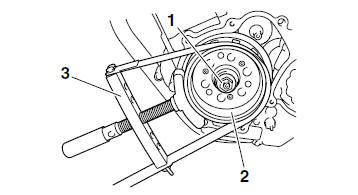 3. Apply:
Sealant (onto the crankshaft position sensor/stator assembly lead grommet)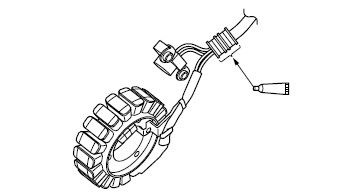 4. Install:
Generator cover


NOTE:
Tighten the generator cover bolts in the proper tightening sequence as shown.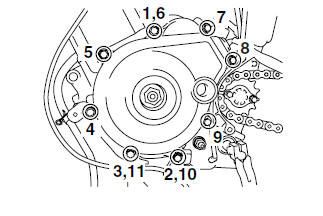 2023 Copyright www.yam-r125.net |