Yamaha YZF-R125 Service Manual: Checking the front fork legs
The following procedure applies to both of the front fork legs.
1. Check:
Inner tube
Outer tube Bends/damage/scratches
Replace.
WARNING
Do not attempt to straighten a bent inner tube as this may dangerously weaken it.
2. Measure:
Spring free length "a" Out of specification Replace.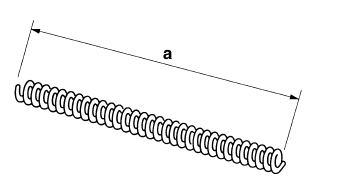 3. Check:
CAUTION:
When disassembling and assembling the front fork leg, do not allow any foreign material to enter the front fork.
2023 Copyright www.yam-r125.net |