Yamaha YZF-R125 Service Manual: Removing the front brake caliper
NOTE:
Before disassembling the brake caliper, drain the brake fluid from the entire brake system.
1. Remove:
Brake hose union bolt "1"
Copper washers "2"
Brake hose "3"
NOTE:
Put the end of the brake hose into a container and pump out the brake fluid carefully.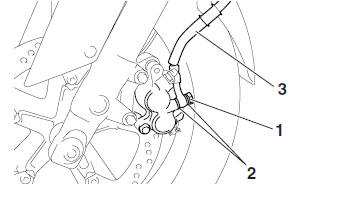 2023 Copyright www.yam-r125.net |