1. Lubricate:
Bearings
Spacers
Dust covers
Pivot shaft


2. Install:
Bearings "1"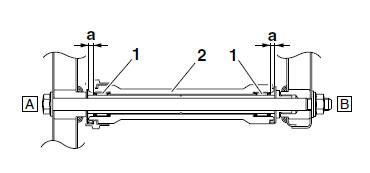 2. Swingarm
A. Left side
B. Right side
3. Install:
Swingarm adjusting collar "1"
Swingarm "2"
Pivot shaft
Pivot shaft nut "3"
a. Install, and then fully turn in the swingarm adjusting collar so that it contacts the frame.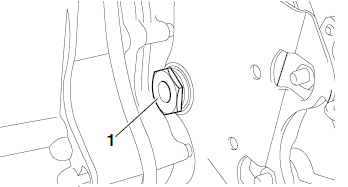 b. Install the swingarm, pivot shaft, washer and pivot shaft nut.
NOTE:
Temporarily tighten the pivot shaft nut.
c. Turn the swingarm adjusting collar out to tighten it and so that it contacts the dust cover on the swingarm.
d. Tighten the pivot shaft nut.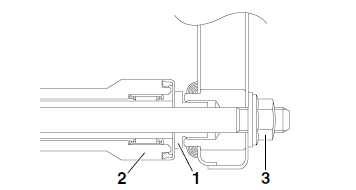 e. Check the swingarm side play.
Refer to "REMOVING THE SWINGARM" on page 4-61.
4. Install:
Rear shock absorber assembly
Relay arm
Rear wheel Refer to "REAR SHOCK ABSORBER ASSEMBLY" on page 4-56 and "REAR WHEEL" on page 4-12.
5. Adjust:
Drive chain slack Refer to "ADJUSTING THE DRIVE CHAIN SLACK" on page 3-21.