Yamaha YZF-R125 Service Manual: Installing the shift shaft
1. Install:
Stopper lever "1"
Stopper lever spring "2"
NOTE:
Install the stopper lever spring as shown in the illustration.
Hook the ends of the stopper lever spring onto the stopper lever and the crankcase boss "3".
Mesh the stopper lever with the shift drum segment assembly.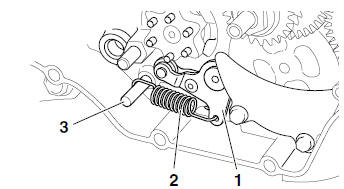 2. Install:
NOTE:
Hook the end of the shift shaft spring onto the shift shaft spring stopper "2".
2023 Copyright www.yam-r125.net |