Yamaha YZF-R125 Service Manual: Installing the rear wheel (disc)
1. Install:
Rear brake disc


NOTE:
Tighten the brake disc bolts in stages and in a crisscross pattern.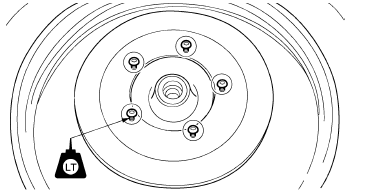 2. Check:
Rear brake disc Refer to "CHECKING THE REAR BRAKE DISC" on page 4-33.
3. Lubricate:
Rear wheel axle
Contact surface of rear wheel hub and rear wheel
Wheel bearings
Oil seal lips


4. Adjust:
Drive chain slack Refer to "ADJUSTING THE DRIVE CHAIN SLACK" on page 3-21.


2023 Copyright www.yam-r125.net |