Yamaha YZF-R125 Service Manual: Installing the drive chain
1. Lubricate:
Drive chain
Master link


2. Install:
Drive sprocket
Drive sprocket retainer bolts


3. Install:
Master link
O-rings
Master link plate
Master link clip "1"


CAUTION:
The closed end of the master link clip must face in the direction of drive chain rotation.
Never install a new drive chain onto worn drive chain sprockets; this will dramatically shorten the drive chain's life.
NOTE:
Install the master link plate with its manufacturer mark facing outward.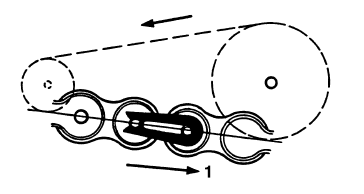 4. Install:
NOTE:
Be sure not to pinch the neutral switch lead when installing the drive sprocket cover.
5. Install:
Rear wheel Refer to "REAR WHEEL" on page 4-12.
6. Adjust:
Drive chain slack Refer to "ADJUSTING THE DRIVE CHAIN SLACK" on page 3-21.


CAUTION:
A drive chain that is too tight will overload the engine and other vital parts, and one that is too loose can skip and damage the swingarm or cause an accident. Therefore, keep the drive chain slack within the specified limits.
2023 Copyright www.yam-r125.net |