Yamaha YZF-R125 Service Manual: Checking the rectifier/regulator
1. Check:
Rectifier/regulator output voltage Out of specification → Replace the rectifier/ regulator.

a. Set the engine tachometer to the spark plug lead.
b. Connect the pocket tester (DC 20 V) to the rectifier/regulator coupler as shown.

Positive tester probe
red "1"
Negative tester probe
black "2"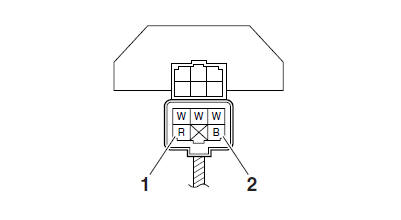 c. Start the engine and let it run at approximately 5000 r/min.
d. Measure the charging voltage.
2023 Copyright www.yam-r125.net |