Yamaha YZF-R125 Service Manual: Checking the condition of the bulb sockets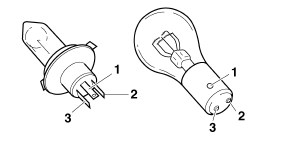 The following procedure applies to all of the bulb sockets.
1. Check:
Bulb socket (for continuity) (with the pocket tester) No continuity

Replace.

NOTE:
Check each bulb socket for continuity in the same manner as described in the bulb section, however, note the following.
a. Install a good bulb into the bulb socket.
b. Connect the pocket tester probes to the respective leads of the bulb socket.
c. Check the bulb socket for continuity. If any of the readings indicate no continuity, replace the bulb socket.
2023 Copyright www.yam-r125.net |