1. Stand the vehicle on a level surface.
WARNING
Securely support the vehicle so that there is no danger of it falling over.
NOTE:
Place the vehicle on a suitable stand so that the rear wheel is elevated.
2. Measure:
Swingarm side play
Swingarm vertical movement
a. Measure the tightening torque of the pivot shaft nut.

b. Measure the swingarm side play "A" by moving the swingarm from side to side.
c. If the swingarm side play is out of specification, check the spacers, bearings, and dust covers.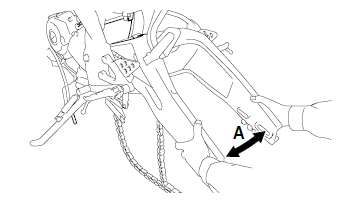 3. Remove:
Pivot shaft nut
Pivot shaft
Swingarm "1"
Swingarm adjusting collar "2"
a. Loosen the pivot shaft nut.
b. Fully turn in the swingarm adjusting collar so that it contacts the frame "3".
c. Remove the pivot shaft nut, washer, pivot shaft and swingarm.