Yamaha YZF-R125 Owners Manual: Owner's tool kit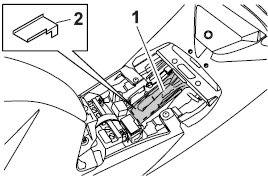 Owner's tool kit
Owner's tool kit
Engine oil drain attachment
The owner's tool kit is located under the rider seat.
The service information included in this manual and the tools provided in the owner's tool kit are intended to assist you in the performance of preventive maintenance and minor repairs. However, additional tools such as a torque wrench may be necessary to perform certain maintenance work correctly.
TIP
If you do not have the tools or experience required for a particular job, have a Yamaha dealer perform it for you.
TIP
The annual checks must be performed every year, except if a kilometer-based maintenance, or for the UK, a mileage-based maintenance, is performed instead.
From 30000 km (17500 mi), repeat the maintenance intervals starting from 6000 km (3500 mi).
Items marked with an asterisk should be performed by a Yamaha dealer as they require special tools, data and technical skills.
2023 Copyright www.yam-r125.net |