Yamaha YZF-R125 Service Manual: Installing the piston and cylinder
1. Install:
Top ring "1"
2nd ring "2"
Oil ring expander "3"
Lower oil ring rail "4"
Upper oil ring rail "5"
NOTE:
Be sure to install the piston rings so that the manufacturer marks or numbers face up.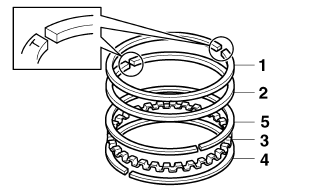 2. Install:
Piston "1"
Piston pin "2"
Piston pin clips "3"


NOTE:
Apply engine oil to the piston pin.
Make sure the arrow mark "a" on the piston points towards the exhaust side of the cylinder.
Before installing the piston pin clips, cover the crankcase opening with a clean rag to prevent the clips from falling into the crankcase.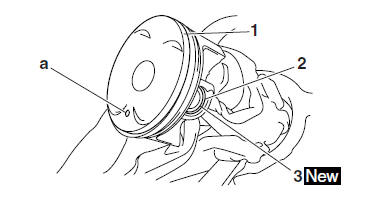 3. Lubricate:
Piston
Piston rings
Cylinder (with the recommended lubricant)


4. Offset:
Piston ring end gaps


a. Top ring
b. Upper oil ring rail
c. Oil ring expander
d. Lower oil ring rail
e. 2nd ring
f. 20 mm (0.79 in)
A. Intake side
5. Install:
Dowel pins
Cylinder head gasket


Cylinder "1"
NOTE:
While compressing the piston rings with one hand, install the cylinder with the other hand.
Pass the timing chain and timing chain guide (intake side) through the timing chain cavity.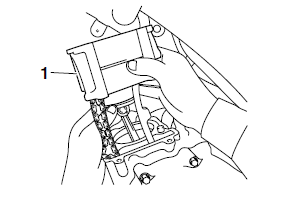 2023 Copyright www.yam-r125.net |