Yamaha YZF-R125 Service Manual: Checking the fuel pressure
1. Check:
Pressure regulator operation
a. Remove the fuel hose connector cover "1" and disconnect the fuel hose "2" from the fuel pump.
CAUTION:
Although the fuel has been removed from the fuel tank, be careful when removing the fuel hose, since there may be fuel remaining in it.
NOTE:
Before removing the hose, place a few rags in the area under where it will be removed.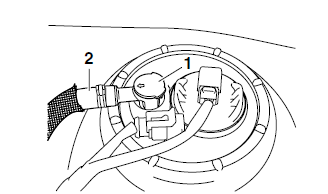 b. Connect the pressure gauge "3" and fuel pressure adapter "4".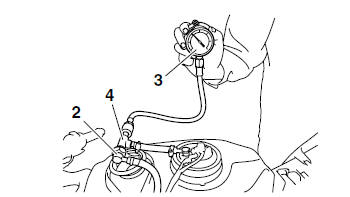 c. Start the engine.
d. Measure the fuel pressure.

Faulty Replace the fuel tank (with fuel pump).
e. Connect the fuel hose and install the fuel hose connector cover.
Refer to "INSTALLING THE FUEL HOSE" on page 7-2.
2023 Copyright www.yam-r125.net |