Yamaha YZF-R125 Owners Manual: Battery
A poorly maintained battery will corrode and discharge quickly. The electrolyte level, battery lead connections and breather hose routing should be checked before each ride and at the intervals specified in the periodic maintenance and lubrication chart.

WARNING
Electrolyte is poisonous and dangerous since it contains sulfuric acid, which causes severe burns. Avoid any contact with skin, eyes or clothing and always shield your eyes when working near batteries. In case of contact, administer the following FIRST AID.
EXTERNAL: Flush with plenty of water.
INTERNAL: Drink large quantities of water or milk and immediately call a physician.
EYES: Flush with water for 15 minutes and seek prompt medical attention.
Batteries produce explosive hydrogen gas. Therefore, keep sparks, flames, cigarettes, etc., away from the battery and provide sufficient ventilation when charging it in an enclosed space.
Take care not to spill electrolyte on the drive chain, as this may weaken it, shorten chain life and possibly result in an accident.
KEEP THIS AND ALL BATTERIES OUT OF THE REACH OF CHILDREN.
To check the electrolyte level
Place the vehicle on a level surface and hold it in an upright position.
TIP
Make sure that the vehicle is positioned straight up when checking the electrolyte level.
Check the electrolyte level in the battery.
TIP
The electrolyte should be between the minimum and maximum level marks.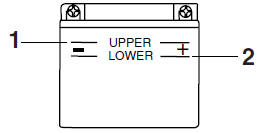 Maximum level mark

Minimum level mark
3. If the electrolyte is at or below the minimum level mark, add distilled water to raise it to the maximum level mark. NOTICE: Use only distilled water, as tap water contains minerals that are harmful to the battery.
Check and, if necessary, tighten the battery lead connections and correct the breather hose routing.
To store the battery
If the motorcycle will not be used for more than one month, remove the battery, fully charge it, and then place it in a cool, dry place. NOTICE: When removing the battery, be sure the key is turned to "OFF", then disconnect the negative lead before disconnecting the positive lead.
If the battery will be stored for more than two months, check the specific gravity of the electrolyte at least once a month and fully charge the battery whenever necessary.
Fully charge the battery before installation.
After installation, make sure that the battery leads are properly connected to the battery terminals and that the breather hose is properly routed, in good condition, and not obstructed. NOTICE: If the breather hose is positioned in such a way that the frame is exposed to electrolyte or gas expelled from the battery, the frame could suffer structural and external damages.
2023 Copyright www.yam-r125.net |