Yamaha YZF-R125 Owners Manual: Replacing the air filter element and cleaning the check hose
The air filter element should be replaced at the intervals specified in the periodic maintenance and lubrication chart. Have a Yamaha dealer replace the air filter element more frequently if you are riding in unusually wet or dusty areas. In addition, the air filter check hose must be frequently checked and cleaned if necessary.
To clean the air filter check hose
Check the hose on the side of the air filter case for accumulated dirt or water.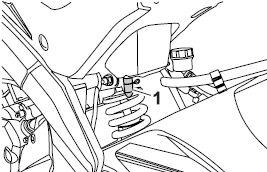 Air filter check hose
If dirt or water is visible, remove the hose, clean it, and then install it.
2023 Copyright www.yam-r125.net |