Yamaha YZF-R125 Owners Manual: Fuel tank cap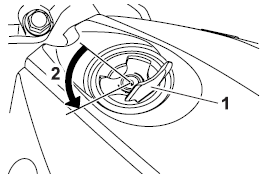 Fuel tank cap
Fuel tank cap lock cover
Unlock.
To remove the fuel tank cap
Open the fuel tank cap lock cover.
Insert the key into the lock and turn it 1/4 turn counterclockwise. The lock will be released and the fuel tank cap can be removed.
To install the fuel tank cap
Push the fuel tank cap into position with the key inserted in the lock.
Turn the key clockwise to the original position, and then remove it.
Close the lock cover.
TIP
The fuel tank cap cannot be installed unless the key is in the lock. In addition, the key cannot be removed if the cap is not properly installed and locked.

WARNING
Make sure that the fuel tank cap is properly installed before riding. Leaking fuel is a fire hazard.
2023 Copyright www.yam-r125.net |